164 Club of Sweden
Some information about our club
Last updated October 22, 2018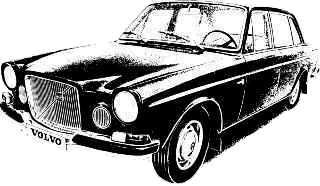 VOLVO 164 (1969-1975)
164 Club of Sweden is a non-profit-making association for people who likes "the" best Volvo ever made. :-)

Our association was founded in 1987 and we have about 230 members. Most of our members are from Sweden, but there are quite a few from other countries. We are also members of MHRF, Motorhistoriska Riksförbundet.
Why don't you also join us?

We are trying to help our members (and other Volvo 164 enthusiasts when we can) with manuals, parts and all kind of questions about the Volvo 164.
Maybe we can give you an answer! We don't know everything, even if we like to think so.
Help us to learn something new.......

Easiest way to reach us is through E-mail.

Together with the other Volvo clubs in Sweden we have founded SVIS, Svenska Volvoklubbar i samverkan (the Volvo Clubs of Sweden in co-operation). SVIS has it's own warehouse with NOS Volvo parts no longer available from any Volvo dealer. SVIS is only open for members of any Volvo club.

We are also trying to give our members some opportunities to meet other Volvo enthusiasts in different meetings and swap-meets (in Sweden...).

Our Swedish members can also get an cheap insurance.

Our annual fee (2021) is 164 SEK.
We prefer if you transfer your money to this account at Nordea: 4607 00 00788.
International address: BIC: NDEASESS, IBAN: SE0230000000046070000788
Paypal is possible if you ad 5% for their fees! A total of 173 SEK.
Please get in contact with us if you have any further questions.

You can also take a look at our membership application (in swedish only..)
(Right click and "save target as", pdf-format)

---

Back to our main page

Tillbaka till vår huvudsida